NStEP is delighted to announce the launch of a new online module: 'LAPS Strategy for Representation'. NStEP's online self-study modules form a core component of the Student Training Programme, which can be accessed via the Student Portal on our website. Students create an account and are free to take any module. Online modules are ideal for class representatives looking to pursue further development opportunities and students that are active in student engagement and partnership activities. Each module is self-study and takes approximately 30 minutes to complete – they are designed to be fully flexible and can be completed at any time.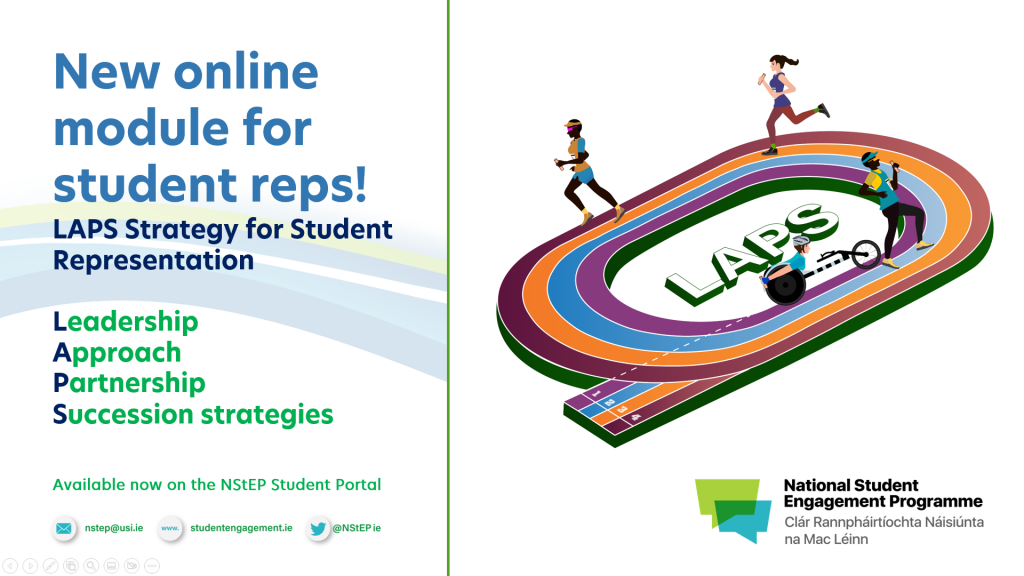 The new module 'LAPS Strategy for Representation' is based on training materials developed for Advanced Class Rep training in 2021 by NStEP trainers Caróg Green, Sarah Kelly, Clara McDonald, and Chloe O'Neill. The module will explore the 'LAPS Strategy for Representation' and its core principles for embedding effective leadership, communication, partnership, and succession planning into the student representative role. Upon completion of the module, students will be able to:
Outline the 4 areas of the LAPS strategy.
Identify and describe different leadership and communication styles and utilise their own leadership style and approach to communication.
Identify how the strategy can be used to help student representatives build partnerships with staff and other students.
Plan a succession strategy for when they are no longer in the class rep role.
Other training modules available on the NStEP website include: 'Understanding the Student Learning Experience' and 'StudentSurvey.ie and You'. The completion of any online module counts towards the requirements to achieving a Student Engagement Recognition Award for Academic Representation.
If you have any questions about our online modules, please contact the Development Coordinator, Rachael Sarsfield Ryan at nstepdevelopment@usi.ie
Don't forget – booking is open for students' unions and HEIs to book NStEP Introductory Class Rep Training! Sessions can be booked using the training request form.