Meet the student trainers
NStEP's student training pool is made up of a team of dedicated and talented students from across Irish higher education. Each student trainer works with students and class reps across the country to equip them to engage in quality, teaching and learning, and institutional governance.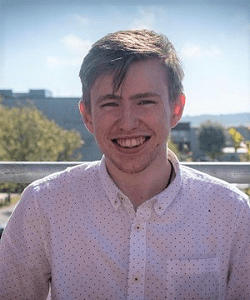 Stephen Foley
CIT - Business Information Systems
I'm from Whitechurch in County Cork and I went to school in Scoil Mhuire Glan Smal in Blarney. In second level I was a class representative, and was elected to represent Munster on the National Council of Schools of the Irish Second-Level Students Union (ISSU).  I loved my experience working with the ISSU, which is why I continued to be so involved in my own students' union in CIT and pursued a role in NStEP.  I believe that student engagement is essential for the continued development of Higher Education as it empowers students to ensure their voices are heard and so they can make meaningful change to the development of their own education.  After I graduate college, I would love to get a job within the technology sector, however I would also love to continue my involvement in Unions later on in life.
I am an avid gamer and have custom built my own PC. I am also heavily involved in a number of society's in CIT, such as anime, guild gaming, Business and Enterprise, and the Canoe club.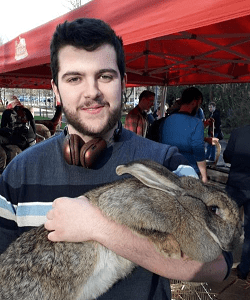 Edward Grant
LYIT - BSc. Bioscience
I'm in my third year of a bioscience degree in the LYIT. I have a strong background in activism, working with Donegal Down syndrome and Our children's voice, campaigning for changes in legislation to allow children with Down Syndrome access to mainstream education. I have been to Leinster House on a number of occasions speaking on behalf of siblings of those with terminal illness and life limiting deases as well as presenting information gathered through surveys I help design and deliver.
I've been working closely with my collage's SU as a class rep and part of the welfare committee for the last 2 years. I'm also a part of the Student Engagement Framework project team, where I've had the honour of meeting and discussing student engagement with some brilliant and passionate people. I'm ecstatic to be working with NStEP in the coming year in furthering the reach of student engagement and partnership across Ireland by providing training for the next generation of class reps.
I can't wait to meet some of you in the coming year and hope to create a strong network of students, to exchange ideas and reinvigorate student voices in all areas of our third level institutes.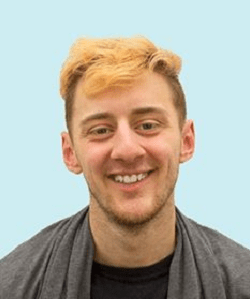 Scott Green
NUIG - BS Computing Science
I'm from Kiltevna – a part of Galway so rural I've given up on trying to tell people where it is. A (hopefully) soon to be Computer Science Graduate, I have been involved with NStEP as a trainer for a previous year and am thrilled to return again this year. I've been lucky enough to be a elected class rep three times, have held two separate NUIG Students Union positions (Convenor of the College of Science and SU Council Chairperson), in addition to serving on multiple NUIG committees.  As such, I have plenty of experience advocating for the rights of students and amplifying their voice as well as being involved in protests and demonstrations and their planning.  I'm excited to share my varied experience to the table and help empower you as students. 
In college I'm involved with the writing society and the journalist society as well as the fencing club. Outside of that I run and play D&D, write poetry and buy new books and games to go beside the older ones I haven't opened yet. I'm also a member of the Galway Pride committee. When I've graduated I'd love to break into the video games industry in some capacity.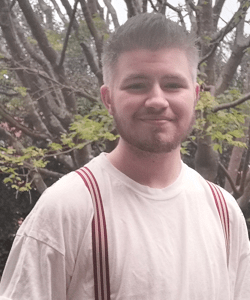 Tadgh Jenkins
DCU - Joint Honours Politics and Law
Hi, my name is Tadgh. I'm a final year student at DCU, and I've been an elected class representative for my programme since my first year. I've been passionately involved in the work of my Students' Union right from the start and I have represented DCU at USI National Congress, as well as spending my time working with various clubs and societies including DCU LGBTA, which I am honoured to chair this year. Being a student representative has given me a great sense of pride in my institution, and I hope to encourage other students into becoming more active in student politics. I am an experienced public speaker, and my area of expertise is LGBT+ inclusion in policy formulation.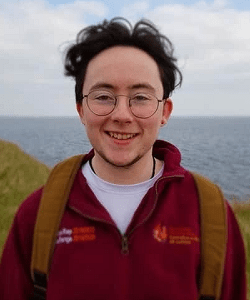 Cameron Keighron
NUIG - PhD in Physiology
Over the past number of years I have been widely involved in student engagement across the NUI Galway Campus. I have been a class representative at both Undergraduate and Postgraduate level, a part-time officer with the responsibility for taught postgraduate students and last year was the Vice President/Education Officer in NUI Galway Students' Union. I am passionate about empowering students to have their voice heard and to ensure we attain meaningful student staff partnerships in third level institutions across the island of Ireland. Currently I am studying for a PhD in physiology and look forward to bringing a postgraduate experience to the exciting NStEP team.
Sarah Kelly
CCAD/CIT - Fine Art BA (Hons)
I'm a fourth-year student of Fine Art in CCAD. I've been involved with the CIT Drama Society for first year and was elected as Public Relations officer two years in a row. Societies have been a massive part of my college experience and allowed me to learn skills necessary to work effectively in a team. This position gave me the confidence, also, to pursue similar Public Relations roles; I helped found the CCAD Film Society and CCAD Yoga Society. A huge part of societies is collaborating with staff and students, which I've loved, so I'm so excited by the Student Engagement Programme! I've also worked as a Student Leader, facilitating events on campus, making students feel welcome and liaising between departments of the faculty. I'm looking forward to getting stuck in as a student trainer, learning from others and sharing what I know.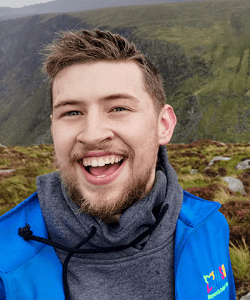 Ryan Lynch
MU - Computer Science and Software Engineering
Hey everyone! I'm one of the new Student Trainers this year!  
I'm from Meath originally but I'm now a proud resident of Maynooth. 
I'm going into 3rd year of my Computer Science degree because I took a year out to work but this will be my 4th year being involved with student representation because I stayed involved even during my year out!  
I first got involved with college societies (access, mental health, computer science to start) and then became an Academic (/Class) Rep for 2nd year Computer Science. I really loved working with the faculty convenors and helping my classmates, organising extra tutorials around exam times and just looking after them in general which is how I ended up here in this role! I'm excited to see how I can help all of you this year!  
A couple of fun facts about me are that there is a video somewhere of me running around nearly the whole Maynooth campus as Santa Claus and I have a basic qualification in Irish Sign Language because I just enjoy learning new things!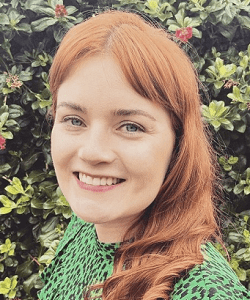 Clara McDonald
Hibernia College - Professional Masters of Education
My name in Clara, and I'm a current postgraduate student at Hibernia College undertaking a Professional Masters of Education specialising in primary education. I am a recent graduate of Early Childhood Education & Care which I undertook on a part-time basis on the Wexford Campus of the Institute Technology Carlow. My interests include musical theatre, volunteering at Barretstown and playing rounders with my local club, Barntown Gaels. I am also a Gold Gaisce award holder and Participant Activity Leader mentoring current participants on their award journey.   I have had a keen interest in student representation and engagement since I first attended third level and have been lucky enough to undertake roles to include college ambassador, class representative, club committee member and chairperson, club life committee member and student union officer.  I am the current acting cohort representative for the Autumn 2019 Professional Masters of Education students of Hibernia College, a role I undertake in a virtual capacity as we are students of a fully blended course.
These roles have each given me different insights into student life (as a full-time, part-time and blended learning student) and the importance of faculty and student collaboration – as such becoming a student trainer with NStEP will be an exciting and interesting role for me.  I hope to support new and existing class representatives to better under their role while also giving them the tools and skills to support them to become the best version of representative they can be. I believe training and education are key to support the network of class representatives across Ireland not only to advocate for their peers but also to become the leaders of tomorrow.
I can normally be found onstage on the National Opera House with Wexford Light Opera Society or working backstage with Oyster Lane Theatre Group.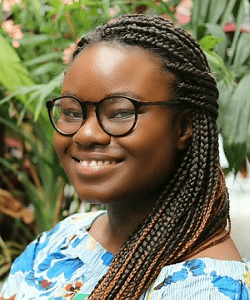 Yvana Mpessa
MU - BCL Law and Business
My name is Yvana and I am a Belgian-born, Irish-Canadian of Cameroonian descent. I currently live in Portlaoise and I am a student at Maynooth University. As a Law class representative, I was responsible for raising academic issues to the department of law and the students' union. I acted as the advocate and the communicative link between students and the department. I went above and beyond in this role and my achievements were recognized nationally by my receipt of the "Best Class Representative 2018/2019" award from the Union of Students Ireland.  Having been a recipient of NStEP training myself, I can say with confidence that it has provided me the leadership, analytical, and interpersonal skills needed to be an excellent class rep. As a trainer, I wish to impart the same level of knowledge and skills to other students across the country. 
I am an avid reader of contemporary African literature and also enjoy cooking and baking. I am the founder and first-acting president of the STAND society at Maynooth University where my committee and I deliver events, activities, and initiatives to raise awareness about human rights and global issues.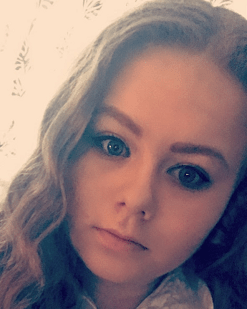 Chloe O'Neill
Hibernia College - Professional Masters of Education
My name is Chloe O'Neill. I am in my second year of the Professional Masters of Education Post-primary, having earned my undergraduate degree from NUIG; Bachelor of Arts with Geography and English. I have only one year under my belt as an official class representative for my cohort, however, observation and life skills prove just as valuable. I believe students need more than someone to pass on criticism but a support network that spans across many departments within Higher Educational Institutions. NStEP promotes and supports student engagement by providing the key skills needed to be an agent of change and I am delighted to be a member of this years team. 
Dylan Scanlon
UL - PhD in Physical Education and Sport Sciences
Hi! My name is Dylan and I am currently undertaking a PhD at UL, after completing my Masters and undergraduate degree (where I also engaged in student representation!) – so I have been in the higher education scene for a while now! I am currently the class rep for the structured PhD year group on the Faculty of Education and Health Sciences Course Board at UL which consists of three Departments and three Schools. As a Student Trainer, and working with the other trainers and the NStEP staff, I am looking forward to educating students on the importance student engagement and empowering them with the skills and knowledge to advocate for this engagement, and fostering a belief that they can make a difference in the Irish higher education system. It is going to be an exciting and rewarding journey!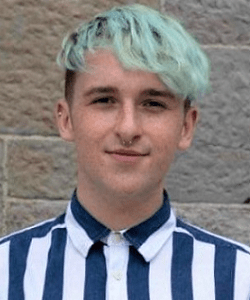 Seán Whelan
TUD Tallaght - Electronic Engineering
I'm an Electronic Engineering student in TUD Tallaght Campus and have lived in Palmerstown, Dublin all my life. I have been a class rep and was elected Entertainments Officer for the Tallaght campus Students' Union for 2019-20. I have a small class of about 15, so as a class rep it was easy to get to know each classmate.  I feel because of this I was able to deal with any and all issues that were raised by the class. Whether it was securing extra tutorials, or getting a lecture arranged, or even assisting classmates who were struggling with our course. Being able to approach and work with the Department head to seek extra help for students was very rewarding. I think the most important thing to me is making sure that all students get the most out of their student experience. In my spare time I volunteer in Larch Hill International Scout and Guide Centre in the Wicklow Mountains. I've been a scout since I was 15. I also set up a Rovers society with a friend.
Zoe Cummins
TCD -
More information coming soon!
2016/2017
Danielle Curtis (UCD)
Molly Kenny (TCD)
Laura O'Connor (UCC)
Catherine Ryan (NUIG)
Joanna Siewierska (UCD)
2017/2018
Logan Arnold (TCD)
Aimee Connolly (TCD)
Danielle Curtis (UCD)
Robert Kiely (CIT)
Darren Malone (WIT)
Patricia O'Brien (UL)
Laura O'Connor (UCC)
Emi Ryan (Maynooth)
Joanna Siewierska (UCD)
Emma Tunnicliffe (DCU)
2018/2019
Logan Arnold (TCD)
Alex Coughlan (NUIG)
Liz Gabbett (UL)
Anna Heverin (UCC)
Robert Kiely (CIT)
Sally Anne McCarthy (TCD)
James Ryan (NUIG)
Joanna Siewierska (UCD)
2019/2020
Alex Coughlan (NUIG)
Stephen Foley (CIT)
Scott Green (NUIG)
Anna Heverin (UCC)
Cat Kane (DCU)
Robert Kiely (CIT)
Sally Anne McCarthy (TCD)
Karolyn McDonnell (ITC)
Yvana Mpessa (Maynooth)
Sean Whelan (TUD – Tallaght)