The deadline for applications has been extended to 6pm, Monday 8th November 2021.
The partners of the National Student Engagement Programme (NStEP) are seeking applications for two exciting new Student Associate Internships. These are part-time paid positions available for a fixed-term period of 6 months, commencing in November 2021.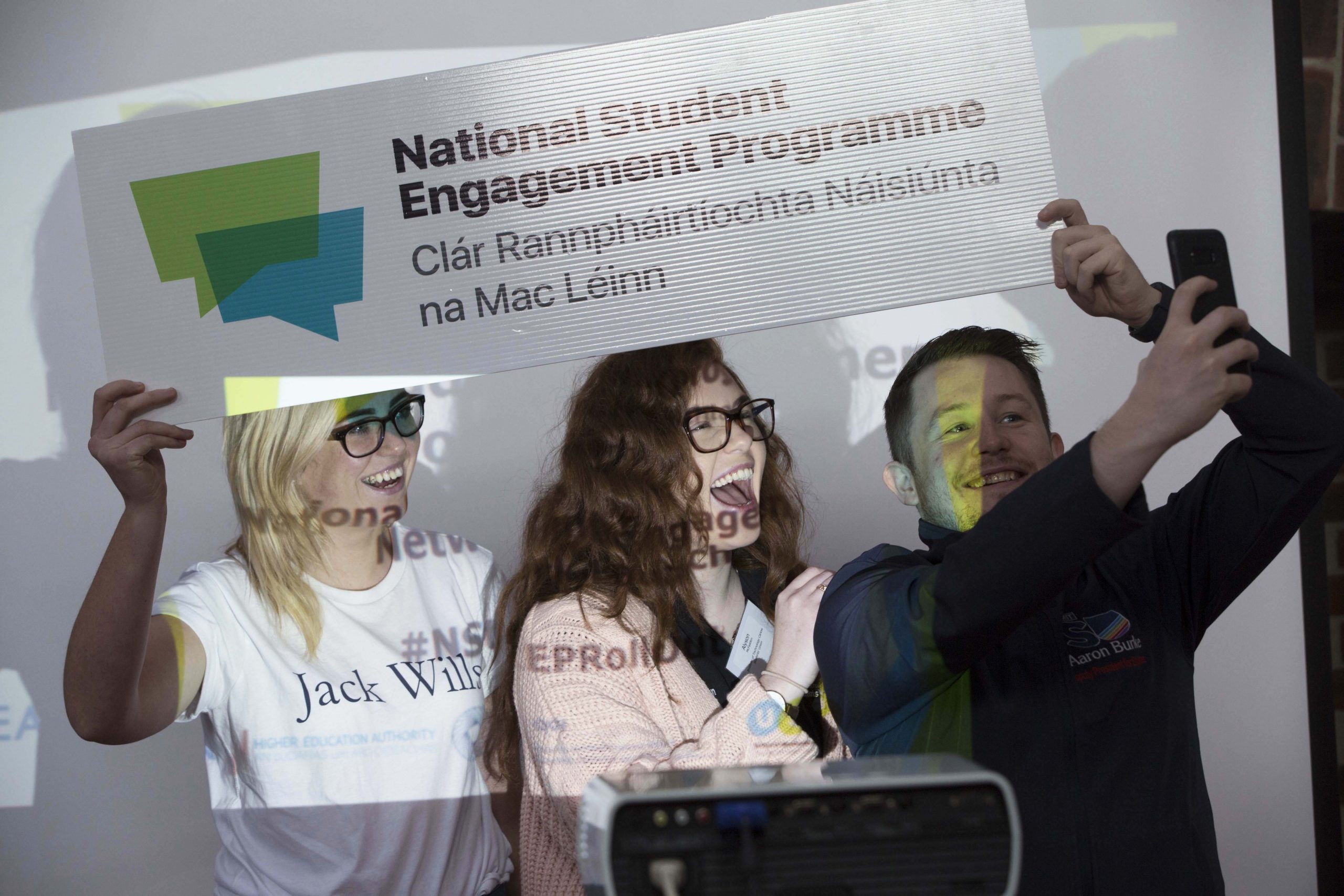 The National Student Engagement Programme (NStEP) was launched in 2016 to develop a national vision for enhancing and embedding student engagement within higher education. NStEP is a joint initiative of the Union of Students of Ireland (USI), the Higher Education Authority (HEA), and Quality and Qualifications Ireland (QQI). NStEP develops and supports student engagement in decision-making across higher education. Student engagement is underpinned by the idea of "students as partners".
The successful candidates should expect to learn about the work of the programme at the national and institutional levels, the NStEP 'Steps to Partnership' framework, and the student partnership ethos. This will include working with the full-time NStEP staff (the Programme Manager and the Development Coordinator), and the NStEP Student Trainers, as well as staff and students from across the 28 institutions involved in the programme.
The Roles
The Student Associate Interns will support the ongoing development of two exciting new projects in student engagement. They will also support the administration of the programme, develop the communications structure and bring essential skills: excellent communication skills, attention to detail, the ability to work independently on important projects, and most importantly, a strong enthusiasm for the aims of the programme.
The Student Associate Interns will:
Act as full members of the NStEP team, including attending relevant meetings and events as agreed;
Report directly to the Programme Manager and will agree an Internship Learning Plan based on programme objectives and their own goals
Explore and research specific aspects of student engagement in Irish higher education and create project plans to support the aims of the programme
Liaise and collaborate with institutional staff and students' union representatives from across the NStEP participating institutions
Assist in events and meetings, develop communications, and review relevant reports
Develop new materials for use by students and staff across Irish higher education
Applicants are asked to consider two key project areas when applying, though it is not expected that applicants should have an interest and experience in both areas. Each Student Associate Intern will primarily work on one of the key projects, which will be decided with the successful candidates based on their skills, interest and experience. The two projects are as follows:
Developing student engagement initiatives for postgraduate research (PGR) cohorts, including the development of new resources to support greater PGR involvement in representation and institutional decision-making.
Supporting and enhancing equality, diversity and inclusion (EDI) in student engagement practices and policies, as well as supporting EDI through student representation.
In your application, please refer to these project areas, explaining which project would best suit your skills and experience.
About You
You should have good communication skills, an interest in researching and developing student-led projects, as well as strong organisational skills.  You should be able to demonstrate an interest in how the national-level activities of the Irish higher education sector work and in the role of students in governance, quality assurance, teaching & learning, and representation.
You should be a current student of an Irish higher education institution.
About NStEP
NStEP aims to strengthen student engagement in decision-making across Irish higher education, supported by the Steps to Partnership framework for authentic student engagement in decision-making. The Programme seeks to champion a strong culture of partnership between students and staff through practice-based projects, training and capacity building, as well as informing policy developments.
NStEP has three strategic priorities for 2019 – 2021, which are:
Strengthening the value of student engagement nationally
Developing the leadership capabilities of students in Irish higher education
Supporting staff and students across the sector to foster a culture of partnership
Student engagement is underpinned by the idea that students are partners and co-creators within a learning community, and NStEP aims to actively embed these principles within higher education. Involvement in NStEP requires a partnership between HEI staff and student representatives, with HEI leadership and Students' Union leadership signing partnership agreements to participate.
Internship Learning Outcomes
Gain knowledge of the Irish Higher Education sector.
Understand the establishment and implementation of the Irish national framework for student engagement (Steps to Partnership) and the National Student Engagement Programme.
Develop project management and planning skills when creating and implementing new projects and ideas for the programme.
Enhance research, writing and analysis skills by contributing to briefing documents, reports, and other publications.
Develop communications skills through collaboration with others, presenting on the work of the programme, and leading on short project.
Job Specification
The successful applicants will report directly to the NStEP Programme Manager and will work to objectives set out with the programme partners: Higher Education Authority, Quality and Qualifications Ireland, and the Union of Students in Ireland.
The primary role of the interns is to develop new and existing projects on student engagement for the programme. The interns will attend meetings with the NStEP staff and will be expected to take an active role in programme events.
Excellent written and oral communication skills, excellent organisational skills and attention to detail are important. Applicants should be able to work independently with minimal supervision once tasks have been discussed and agreed.
The position is paid at an hourly rate of €13.50 working up to 15 hours a week for 6 months, commencing in November 2021. Start dates and working hours will be discussed upon appointment.
Location and Support
In light of the ongoing Covid-19 restrictions, candidates will be expected to work from home. Support will be provided to successful candidates to ensure that they are able to work comfortably and efficiently from home. There may be opportunities to travel to events and meetings, which will be discussed and agreed in advance. The NStEP office is located at USI headquarters, though it is not expected that the Interns will have to work from those offices.
There is an expenses programme to cover reasonable out-of-pocket expenses.
Applying for the roles
Please send CV with cover letter to Dr Jeffrey Cox via email to nstepdevelopment@usi.ie. Your cover letter should be no more than 2 pages and should outline your suitability for the role based on the description provided in this document, including reference to at least one of the key project areas.
Please include NStEP Student Associate Internships in the subject line.
Deadline for receipt of applications is 6pm, Monday 8th November 2021
Interviews will be held later in November. This may be subject to change. Dates and times will be confirmed with shortlisted applicants after the closing date.
Find out more about our previous Student Associate Intern projects at the links below!