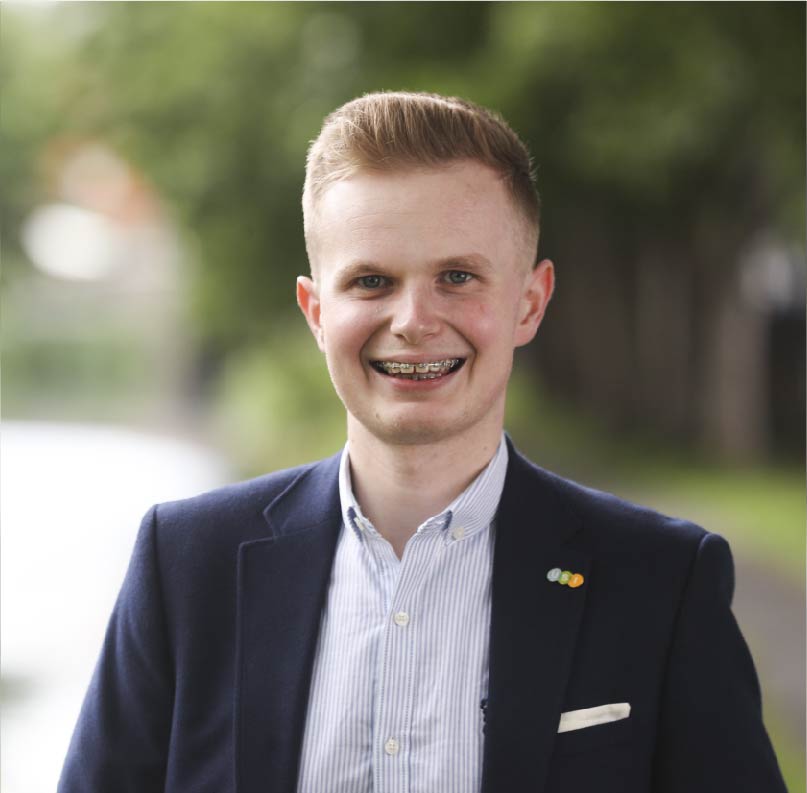 About Kevin McStravock
Kevin McStravock has just completed his term as Deputy President/Vice President for Academic Affairs for the Union of Students in Ireland. Before joining USI in July 2019, Kevin served as the President and the Vice President (Coleraine Campus) for Ulster University Students' Union. He studied Journalism with French at undergraduate, and is currently completing a Masters in Student Engagement at the University of Winchester. In his role at USI, Kevin was a member of the Boards of Quality and Qualifications Ireland (QQI) and the National Forum for the Enhancement of Teaching & Learning (NFETL), while he also acted as Chairperson of NStEP's National Student Engagement Network.
As Kevin moves on from the Irish student movement to a new role in the UK's Quality Assurance Agency for Higher Education, he reflects on representing the student voice at the national level and the future of student engagement in decision-making.
As I approach the end of my two-year tenure as Vice President for Academic Affairs in the Union of Students in Ireland, and consequentially Chair of NStEP's National Student Engagement Network, I have the opportunity to reflect on not only the last two years, but, the last five years I have served as a full-time student officer. When you take into account the various subject and school-based representative roles I occupied during my undergraduate years, that's eight years' worth of representation to reflect on. So with that in mind, here are some reflections that I have learned along the way.
Firstly, my mind is drawn to a quote that I was introduced to during one of my first days as a student officer, at my first ever Students' Union Training (SUT), ran by USI, NUS-USI and NUS UK. The quote is from Digby Jacks, a former NUS UK President who stated that:
"Representation must never be seen, except in strategic and practical terms, as an end in itself. The purpose of representation is to secure social, educational and institutional change".
In considering student representation as one of the four domains of student engagement (as identified in the 'Steps To Partnership' Framework), it is important that we strive to go beyond merely facilitating student representation on all the key committees.
Higher Education is by its' nature a complex, and at times, somewhat bureaucratic system with a fondness for acronyms. When I think back to some of my first experiences in representation, being one of the only student voices within a room, attempting to channel the views and perspectives of thousands of students was quite an intimidating prospect. Training and support is essential in order to equip representatives with the necessary confidence and knowledge to effectively represent their peers. However, we should also seek to critically analyse the decision-making structures we engage in, and whether they facilitate or prohibit effective representation of student voices.
You'll notice that I've used the term 'student voices' and I do so deliberately. The term 'student voice' is often used loosely in the singular tense and, whilst not deliberately suggesting that there is a singular student voice, it can sometimes imply that. Truthfully, there is such a broad diversity amongst the student body that it is incredibly difficult to expect any one student representative to adequately represent the spectrum of views. Again, it is incumbent upon institutions to work with their student leaders to ensure that effective mechanisms are in place to allow a diverse range of experiences to be heard and acted upon.
There are multiple means of doing this and mechanisms for feedback work best when they are designed around the culture and profile of the institution. Existing initiatives such as StudentSurvey.ie already provide valuable data which can be disaggregated at the faculty, school and subject level as well as by student profile. Exploring feedback which has been collated through surveys and other institutional projects, in tandem with students and their representatives can be an invaluable means of enhancing the inclusivity of approaches to student engagement.
Finally, I think it's important to acknowledge that student engagement should, by its' very nature, be a challenging experience for all involved if it is to have a genuine impact. We often see the words 'engagement' and 'partnership' printed in institutional prospectuses and strategic plans but I wonder how much students have actually fed into the development of the publications those words are printed in. Staff and students engaging in partnership entails the traditional power dynamics to be challenged and this can be an uncomfortable experience. Furthermore, it often means representatives having to provide constructive feedback on what doesn't work well for students within the institution – sometimes to staff who are directly responsible for the areas they're providing feedback on. This too can cause discomfort and unease. However, where both parties acknowledge that it's not always going to be a comfortable environment, and that compromise will be required on both sides, there is potential for partnership working to be transformative.