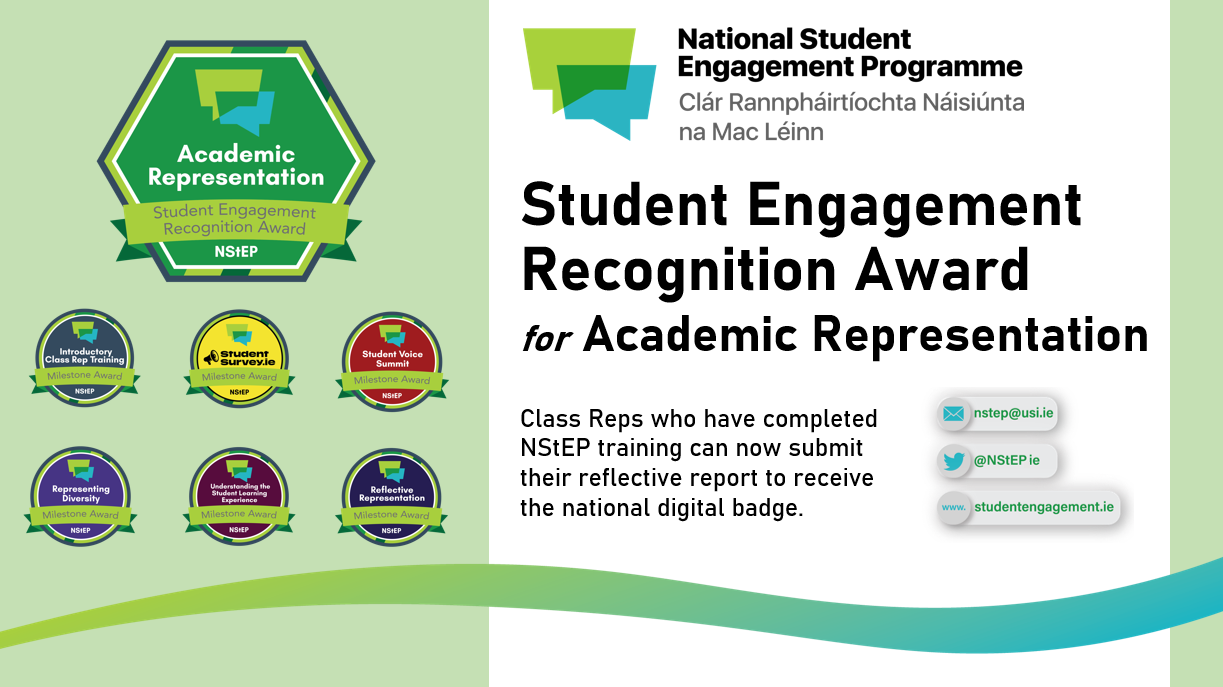 We know that class reps have worked extremely hard during the pandemic, so it is more important than ever to recognise and reward the work they do to improve higher education and represent their peers. Reps who have undertaken the NStEP Introductory Class Rep Training are eligible for our national Student Engagement Recognition Award for Academic Representation, allowing them to reflect on the challenges and successes of 2020/2021, and gain a verified NStEP digital badge to demonstrate the value we place on their role in higher education.
Student representatives can now submit a short reflective report via our website, detailing the work they've completed this year and reflecting on what went well and what could be improved to support student reps in future. Submissions opened on 31st March and will close at midnight on 30th April 2021.
To be eligible for a Student Engagement Recognition Award, students must have completed 3 steps. These are:
Step 1 – Attend NStEP Introductory Class Rep Training (complete!)
Step 2 – Complete an additional NStEP training or development opportunity.
Step 3 – Complete a short reflective report and submit it on our website.
If you have yet to complete step 2, you can still undertake one of NStEP's new self-study online modules. You can enrol for a self-study module here. It will only take approximately half-an-hour to complete and at the end you can download a certificate to prove you have completed step 2. At that point, you can then move on to submit your reflective report (step 3).
Class Reps - We need you!
When submitting your reflective report you will be asked to opt-in to contribute your report to a new NStEP Academic Representation Project. This new project aims to gather ideas, themes, and issues related to student academic representation in Irish higher education and will help to inform policy makers, higher education leadership and staff, students' unions, as well as other students on ways in which we might improve student engagement.
By opting-in to the project your report will be anonymised and included in an analysis of the themes and experiences of class/academic representation in Ireland.
Opting-in is entirely voluntary, and if you do so, it is also entirely anonymous. If you don't wish to opt-in, don't worry, you will still receive your well-earned Student Engagement Recognition Award!
If you have any queries, please contact nstep@usi.ie to find out more.