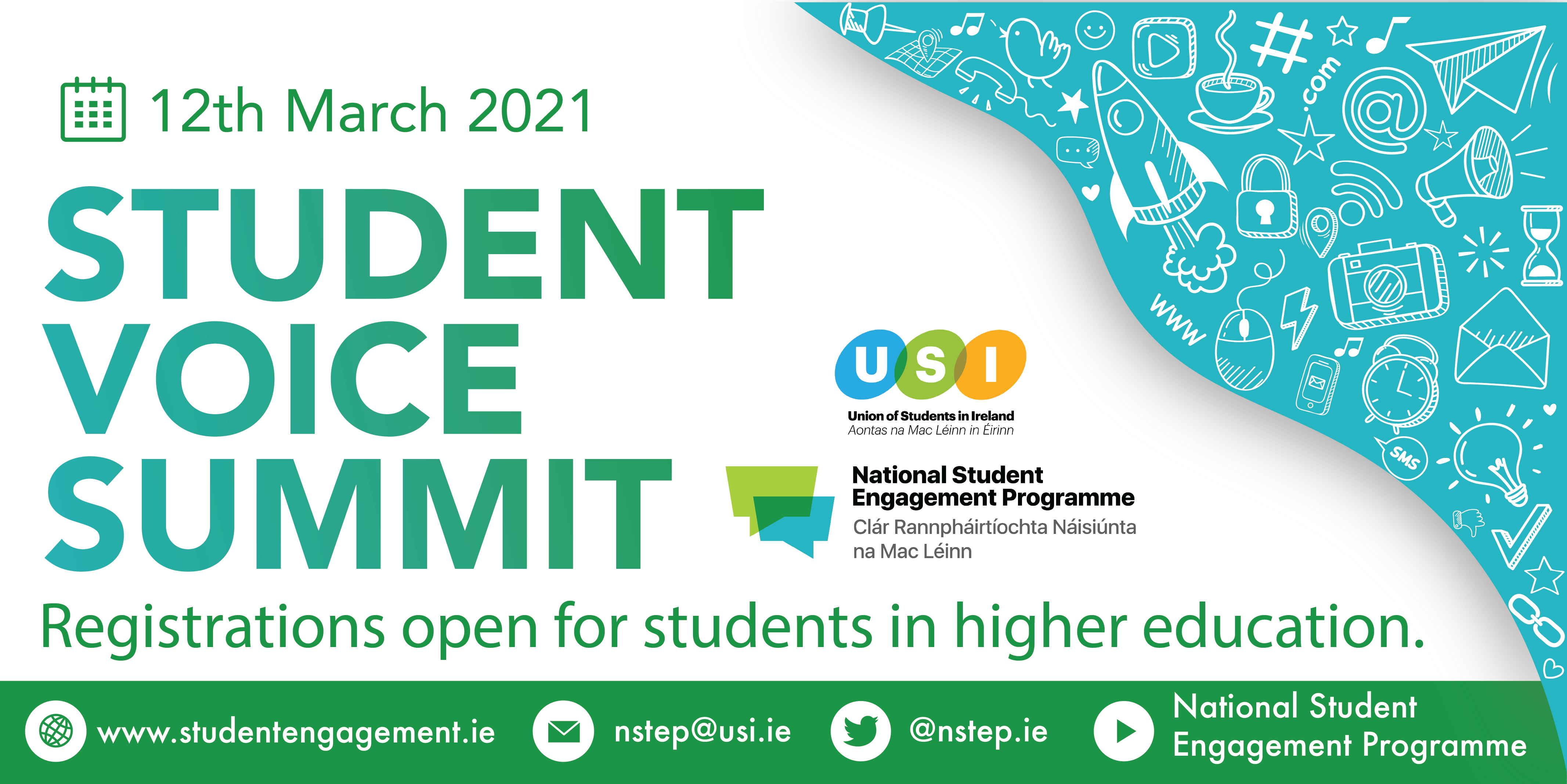 The National Student Engagement Programme (NStEP) and the Union of Students in Ireland (USI) are pleased to announce our very first Student Voice Summit. This event is aimed at students who take on representative or advocacy roles, who are interested in student engagement issues, or who work with staff or other students to improve the educational experience.
NStEP seeks to support students to become active partners with staff in the learning community. Students all across Irish higher education work hard every day to represent the voices of their classmates, find solutions to issues, and bring fresh ideas to the table. The pandemic has brought new challenges and opportunities for student engagement. This event will explore the experiences of students in advocacy and engagement roles during the shift to online/distance learning. Interactive workshops will allow participants to think about how best to use the remainder of the academic year to achieve change, inform NStEP about their experiences, and to help us shape future actions for student engagement.
When? 10.30am – 12.30pm, Friday 12th March 2020
Where? This event will be hosted online.
Why? To strengthen the role of students in decision-making across higher education.
Who? Check out our speaker biographies below!
Please note that this is an event for current students in higher education. 
Class Reps who are working toward an NStEP Student Engagement Recognition Award can use attendance at this event to gain a milestone award digital badge.
We are pleased to have two brilliant guest speakers join us on the day:
Tom Lowe, University of Winchester, United Kingdom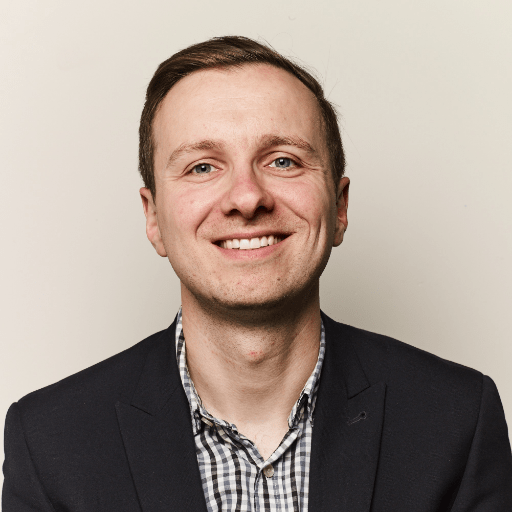 Tom is the Head of Student Engagement and Employability where he leads the University's careers, student development and extra-curricular opportunities, staffing and strategies relating to fostering student success at Winchester. Tom is also the Vice Chair (Acting) for the international network RAISE (Researching, Advancing and Inspiring Student Engagement) and the programme leader for the MA in Student Engagement in Higher Education, working at the cutting edge of Student Engagement in international Higher Education.
Tom has recently published a co-edited book "A Handbook for Student Engagement in Higher Education: Theory into Practice" which offers an array of case studies of best practice, sector commentaries and critical reflections on engaging students in educational developments. Tom is an expert in the practicalities surrounding Student Engagement in quality assurance, learning and teaching, University governance and Students' Unions, as well as student involvement in extra-curricular activities and overcoming barriers to student success through inclusive practice. He has experience working with over 30 HEIs from across the UK and is a frequent contributor and author in journals and conferences.
Prior to August 2017, Tom was the Project Manager for REACT (Realising Engagement through Active Culture Transformation), where he facilitated collaborative development between 16 universities on the subject of Student Engagement in educational developments. Before REACT, Tom was Vice President, Education at Winchester Student Union, representing the students of the University of Winchester. During his time as Vice President, Tom gained a particular passion for Student Engagement, revamping the Student Academic Representative system and starting up the Winchester Student Fellows Scheme. Tom served as a national student representative on several national committees such as the Steering Group of The Student Engagement Partnership (2014-15), the Quality Assurance Agency's Student Advisory Board (2014-18) and the Advisory Committee for Degree Awarding Powers (2016-18).
Lesley Barrett, Technological University Dublin Students' Union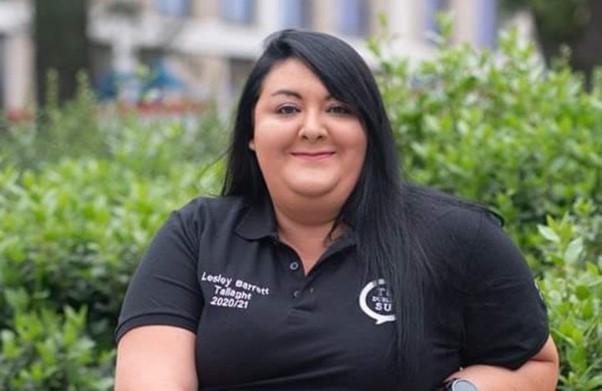 Lesley Barrett, Vice President for Welfare & Equality on the Tallaght Campus of TU Dublin SU is a sole parent living with her seven-year-old Daughter in Dublin.
Lesley's journey back to education began after leaving her job during the 2000's recession to care for her grandmother. She rediscovered a passion for the caring profession and, with encouragement from the hospice team she went on to study QQI Level 5 Social Care in Liberties College Dublin, where she was class rep for the first time. During her time studying for her degree in TU Dublin Lesley was class rep for 4 years, was awarded Humanities Department Excellence Award for best overall student and, was the inaugural School Rep for Business & Humanities on her campus. Lesley was awarded 'Student Activist of the year 2020' by TU Dublin Students Union.  Lesley recently graduated from TU Dublin with First Class honours in Applied Social Care.
For any queries in relation to this event, please email nstep@usi.ie