The National Student Engagement Programme (NStEP) is delighted to welcome two new Student Associate Interns to the team for a period of 6 months, working to develop and lead on two exciting new project areas in student engagement. Muireann Nic Corcráin will lead on the new Equality, Diversity and Inclusion in Student Engagement project, while Naomi Algeo will lead on the Postgraduate Student Engagement project, working to achieve greater partnership and enhancement in these areas for the benefit of students and staff across Irish higher education.
The Student Associates will be supported to ensure that NStEP remains student-centred and student-led, while working to realise the goals of our partners  – HEA, QQI, and USI – as set out in the NStEP Strategy 2019-2021. 
Find out more about Muireann and Naomi below!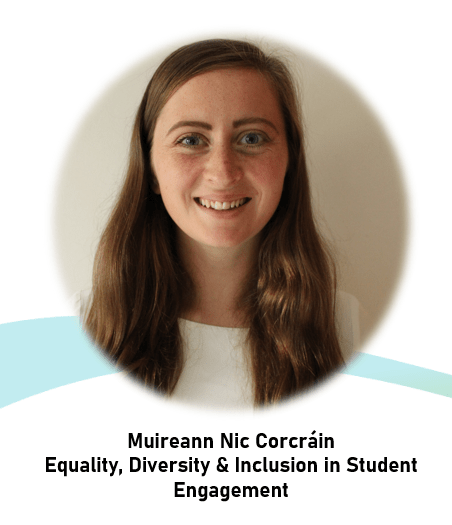 Muireann Nic Corcráin – Student Associate Intern for Equality, Diversity and Inclusion in Student Engagement
My name is Muireann Nic Corcráin, I'm from County Wexford and have recently graduated from Trinity College Dublin with a degree in History and Modern Irish. I'm about to start my Masters in Speech and Language Processing in late September which I am really looking forward to as well! I am a passionate sportsperson, playing both camogie and hockey with my local clubs in Wexford and I've been lucky enough to win an All-Ireland title with Trinity too. I'm a fluent Irish speaker and held the position of Oifigeach na Gaeilge/Irish Language Officer with Trinity College Students' Union last year. I'm also privileged to be a Youth Representative with the National GAA Youth Committee, working on behalf of young people in the Gaelic Games family.
From my experience with the GAA and the SU in Trinity, I've been lucky enough to see the positive effects of good engagement and partnership with key stakeholders. There is an amazing feeling when you achieve something on a cooperative basis and I'm looking forward to bringing this knowledge to the table to ensure that the student engagement process is as accessible as possible to as many people as possible, no matter who you are or what your background is!
There is so much scope within the project area of equality, diversity and inclusion, it's hard to know where to begin! I'm really excited to connect with people across the higher education sector, and my hope is that through this work I'll be able to get a clearer picture of what defines EDI and what NStEP can do to support higher ed institutions in including this work in their respective student engagement initiatives and cultivate positive, long-lasting partnerships.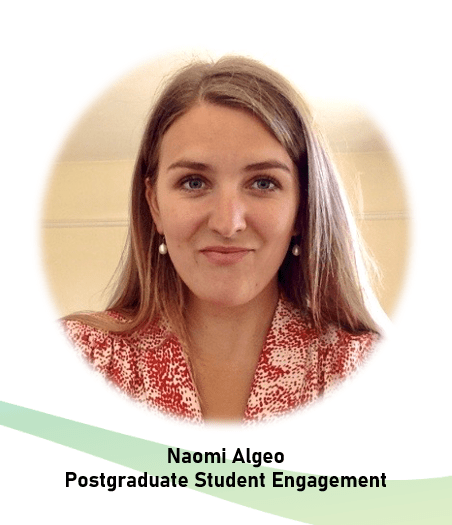 Naomi Algeo – Student Associate Intern for Postgraduate Student Engagement
Originally from Westmeath, I am an occupational therapist by background having completed my B.Sc. (Occupational Therapy) in 2014 from NUI Galway. I moved to London in 2015 to work clinically and, while there, I received a National Institute for Health Research Pre-Doctoral Fellowship to complete a Postgraduate Taught Masters in Clinical Research at City, University of London. Building on my interest in clinical research, I moved back to Dublin in 2017 and worked at the National Rehabilitation Hospital before commencing my Ph.D. (Occupational Therapy) at Trinity College Dublin. Throughout my time in higher education both in Ireland and in the UK, I've been involved in student engagement and in 2017 won the City, University of London Programme Representation award. I joined NStEP as a Student Quality Assurance Reviewer in January 2020, and I am also a Project Team member creating a revised Framework for Student Engagement. In my spare time, you'll often find me on or off the water by Lough Ree where I dabble in a bit of sailing, boating or floating. An avid tea-drinker, I'm a social creature at heart who loves to travel, and am slowly learning how to navigate our new socially distanced world!
I've been in higher education on and off since 2009, and I've seen how student engagement in Ireland has transformed. We're in a much stronger position than we were a decade ago, but there's still a lot more work to do. In clinical research, we often work alongside Patient and Public Involvement (PPI) members to enhance our research and make sure we're concentrating on the right things, and identifying all the gaps to improve healthcare. It should be no different in education where students should be involved at the core and at every stage of the process. It should be a prospective process, rather than a retrospective process. 
My project area is 'Developing student engagement initiatives for postgraduate research and postgraduate taught students and cohorts'. This is a project close to my heart as I have experience in both postgraduate taught and research courses, and am acutely aware of a variety of challenges. As a postgraduate myself, I'm excited to enhance postgraduate student engagement in any way possible!
Want to know about the work of NStEP and the new Student Associates? Follow us on twitter, join our mailing list, and get in touch!