NStEP will host our 5th National Student Engagement Network via an online webinar, with a number of speakers providing perspectives on the impact that the Covid-19 shutdown has had on staff and students. The webinar will explore the way forward for student engagement in Irish higher education, while participants will also be invited to take part in the launch of an exciting new participatory project!
When: 2pm, Thursday 21st May 2020
Where: Online – details to follow.
Staff and students are invited to register here.

Please direct queries to nstep@usi.ie
Speakers Announced!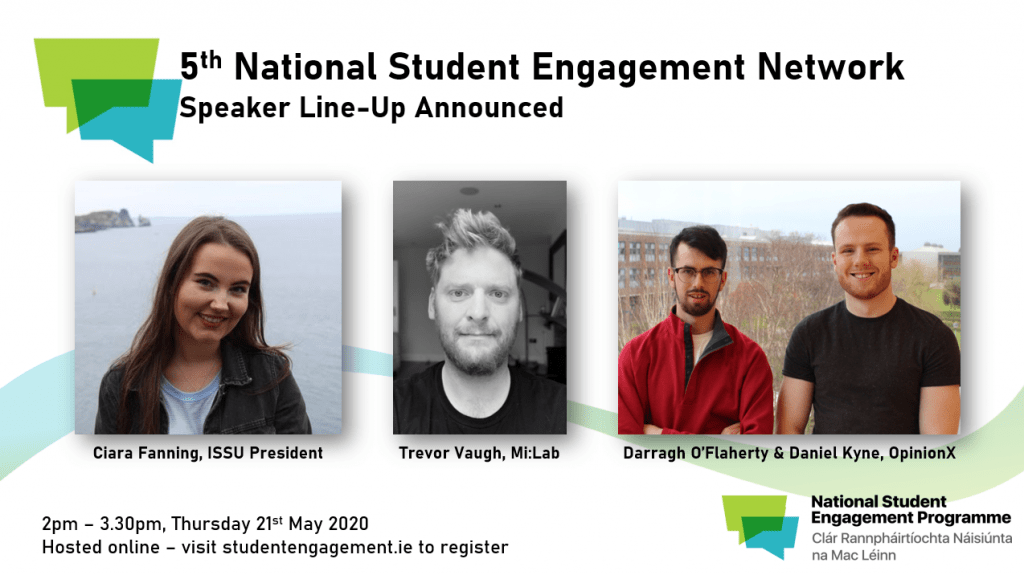 Ciara Fanning
Ciara Fanning is the President of the Irish Second-Level Student's Union (ISSU). The ISSU is the national representative body for school students in the Republic of Ireland. The ISSU is led by students, for students. The ISSU aims to provide support and training to student councils, develop policies on issues that affect second-level students in Ireland and bring the needs of students to the attention of the relevant authorities. They work to give students a structured platform for their voices to be heard and work with educational partners to develop a modern education system that best fits the needs of students.
Trevor Vaugh
Trevor Vaugh is an assistant professor of Design Innovation at Maynooth University and the founding Principal Investigator of the Maynooth University Innovation Lab (Mi:Lab). Mi:Lab is a HEA funded project created to explore, define and creatively tackle higher education system challenges. Trevor is an expert in Human-Centered innovation process and regularly works with public, private and third sector organisations. His research merges the theory and practice of Design, Anthropology and Business Strategy, to help organisations navigate uncertainty, grow and deliver value. Prior to entering Academia, Trevor developed a number of world-first surgical innovations, among these, his work on single-site surgery for Olympus was awarded a place in the prestigious Cleveland Clinic's top 10 innovations of 2009. Across is innovation career Trevor has accumulated a portfolio of over 50 patents. Recently Trevor appeared as an expert on the critically acclaimed RTÉ series "Big Life Fix".
Daniel Kyne and Darragh O'Flaherty
Daniel and Darragh, who have just finished up their final year at DCU, are the co-founders of OpinionX, a platform that allows for participatory surveying, feedback and consultation. OpinionX have partnered with NStEP to bring the national discussion on student engagement to life in an exciting new format!
Daniel Kyne is CEO & Co-Founder of OpinionX, a hybrid survey engagement tool. He is a World Economic Forum Global Shaper, a Techstars Global Facilitator and has twice been listed as a 30 Under 30 leader in Ireland.
Darragh O'Flaherty is CTO & Co-Founder of OpinionX, a hybrid survey engagement tool. Darragh is a former software developer at Google.org supported social enterprise GiveBack.ie and a deliberation assistant at the Irish Citizens' Assembly