The National Student Engagement Programme (NStEP) is delighted to welcome Marino Institute of Education (MIE) as a new participating institution in the programme.
MIE and MIE Students' Union recently signed a short partnership agreement to work with NStEP to enhance student engagement at the Institute. Soon after joining the programme, the NStEP team were hosted on campus to facilitate a student engagement analysis workshop with students and staff. This was the first institutional enhancement workshop delivered in-person/on-campus by NStEP in nearly two years.
The aim of the workshop is to provide participants with a collaborative space to reflect on student engagement practices in the institution, helping them to identify actions for enhancement and partnership activities.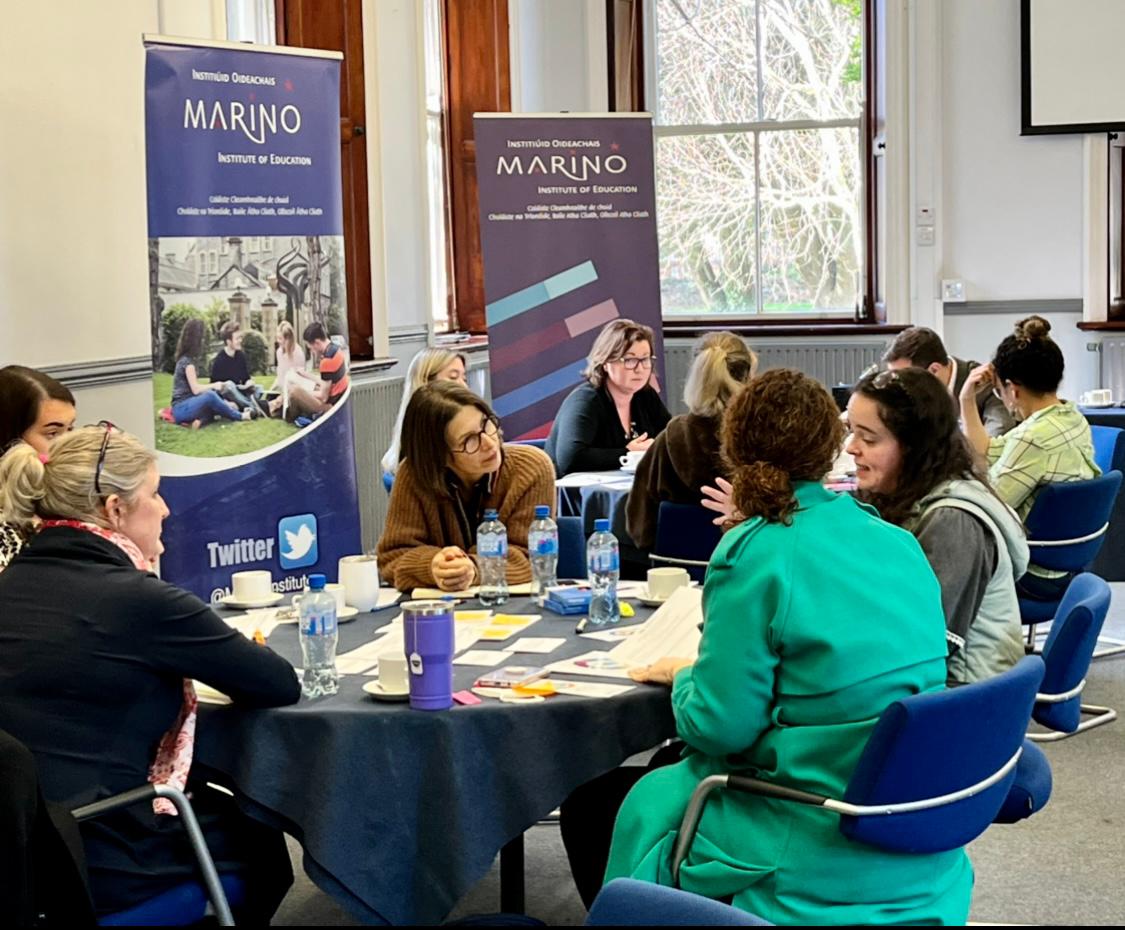 The recently published strategic plan for MIE sets out an ambitious commitment to student partnership across the life of the college, working closely with the MIESU. The support that NStEP provides will feed into a new Working Group on Student Partnership, examining ways to strengthen student engagement and partnership in MIE.
President of MIE, Professor Teresa O'Doherty said "Throughout our Strategic Plan, there is a clear focus on building capacity through participation and meaningful engagement for both staff and students. We are committed to providing professional development opportunities for students and staff that deepen understandings of partnership in practice. We look forward to engaging with all the supports and resources that the NStEP programme offers."
The MIE Students' Union President, Ellen O'Connell, highlighted "It is fantastic to be engaging in the NStEP programme so that we can work together towards heightening student engagement and partnership in Marino. This will help develop student life and allow students to really be hands-on within the college."
Dr Aimie Brennan, Head of Department of Policy and Practice and Chair of the new Working Group on Student Partnership, said "We are delighted to have joined the NStEP programme as a new institutional member. With support from the programme, we look forward to promoting the wonderful examples of partnership practice across MIE, and creating new opportunities for staff and students to co-create and work together to enhance the student experience."
Notes on NStEP's institutional support projects:
From 2017 until 2019, NStEP completed 16 institutional analysis workshops across the sector. These workshops informed enhancement across the key domains of student engagement – governance and management, teaching and learning, quality assurance and enhancement, and student representation and organisation.
Prior to the pandemic, NStEP piloted a new project on 'Cultures of Partnership' with DCU and DCUSU, which informed their new student partnership framework.
During the pandemic, NStEP moved all workshops online, including an analysis workshop with TU Dublin and TUDSU which helped to inform their QQI CINNTE institutional self-evaluation.
Find out more here.